New York Times S-Net Edition, excerpt: A Conversation With Dr. Renaud Beauxbarrie
Taking the Trauma out of Trauma
Director of Medical Research and Development for Orouboros Global, Dr. Renaud Beauxbarrie, 43, is almost single-handedly responsible for the development and advancement of CRF-based surgical techniques, the most dramatic advance in surgical technique in centuries, if not millenia. The questions and answers below are edited from a two-hour conversation.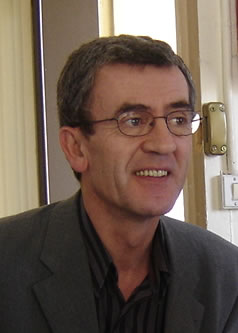 Alex di Suvero for The New York Times
Q. WHAT IS IT LIKE BEING CALLED THE FATHER OF 21ST-CENTURY SURGERY?
A.<Laughs> I don't know. I'm flattered, I suppose. I try to be, you know, modest? But I do not want to minimize the importance of the discovery. And I have been surprised at how quickly everything happened.
The media often sensationalizes science, as the public can be surprised easily by the frequent - and increasing in frequency - major advances in disparate fields. But usually there are years of research and studies and trials that are not noticed by most people. With this, it was less than ten years before it was in everyday use - the stars aligned, you might say.
Q. SO, WHAT MAKES THIS DISCOVERY SO IMPORTANT?
A. It would be easy to say, you know, that it will save many lives? And it will, but it goes beyond that. The main thing the techniques accomplish is that everything is so much faster, eh? So a surgery that would have taken hours and required weeks of recovery takes minutes, and the recovery, that takes minutes too. All of which improves outcomes and survival rates, and that is wonderful.
But even if it didn't, this would still be important because really what it does is it reduces the overall suffering. I think that's the real benefit here. That we don't have quite so much to fear from our own medicine.
Q. CAN YOU EXPLAIN THE BASICS?
A. Well, it was found - not by me, that was Penninger and Zhou, yes? - that one of the functions of the electrical processes in the body is as a sort of...alarm system? Your window is broken and a signal is sent to make the police come.
In this case, the window is damaged cells, and the signal is more of a dog-not-barking...that is to say, the police - these would be T-cells and repair cells - have been constantly getting an all-is-well signal, and then it has stopped, or become garbled. So they will come and check things out. So, they discovered that they could change these signals around such they could make the police come faster, or slower, more or less of them, or none at all.
Q. WHERE DID YOU COME IN?
A. Well, I'm next. What I did was, I tried adding some synthesized proteins to the mix, a combination of IGF one and two, with some other amino groups - I am not sure what I can say, there are patents, but also some trade secrets of Orouboros - I could say too much and I would be hit upon. <laughs>
Q. AH, SO PERHAPS TO PUT THAT IN TERMS OF YOUR ANALOGY?
A. Yes, yes...it would be like <stares at the ceiling momentarily> like, say after the police come, they must investigate, then you call your insurance company, pay for a window repair person, and so on. Well, the CRF, it is as if in addition to calling the police, you build a police academy, right next to your house - and a window repair school next to that - and they are very modern and can turn out new workers almost instantly. So instead of a few police and a repair person, you have an army of them, and things get done quite fast in comparison.
Q. BUT YOUR PROCESS IS NOT REALLY AS AUTOMATIC AS THAT?
A. True. I think we drop the analogy now. The results of applying the CRF and specific combinations of fields, they are - not predictable, but consistent - do something in a specific way and it will have the same effect every time. But the biomechanics involved are non-linear, so it's difficult, computationally speaking, to predict them.
Computers can be very, very fast now, as fast or faster in terms of raw processing as un-enhanced human brains. But we still haven't duplicated the pattern-matching abilities of skilled humans - we have the hardware, but we don't have the software.
Q. SO, YOU NEED A PERSON TO DO IT?
A. And not just any person - a skilled person. It is not an easy skill to learn, to master, but then neither is traditional surgery - and that too has not been deprecated, here. The knowledge of anatomy, the physical dexterity, the cases of internal damage that requires access before the process can be applied. These are all complementary, and necessary skills. So for the foreseeable future, this is a tool for surgeons, not a replacement for them.
Q. WHAT ARE THE DOWNSIDES, THE DANGERS?
A. Well, if it is done incorrectly, the very advantages become penalties. Regeneration can become mis-generation, or uncontrolled generation.
Q. MEANING CANCER?
A. Yes. But this is a very, very small risk with proper training. Because not only would you have to make one mistake, take a wrong action, but you would have to then not see the warning signs, or not react to them. And this sort of risk is present in all surgery, and again, is why surgery is a highly-trained profession.
Q. THESE TREATMENTS WERE FAST-TRACKED FOR APPROVAL BY MOST GOVERNMENTS, AND THERE WERE DEATHS. DO YOU THINK THAT WAS A GOOD DECISION?
A. <long pause> I - this is more than a value judgement. Deaths are always tragedies, but to be frank, they may have happened regardless of how quickly we proceeded. Certainly more lives were saved by getting these treatments out there as quickly as possible - far more than died in early testing. But it is not a linked - that is, those people were not 'sacrificed' for progress any more than test pilots are. They voluntarily chose to participate, and the risks were communicated very well, I made certain of that.
And this wasn't a case where their judgement was influenced because they were dying - we were not saddled with last-resort protocol requirements, so mostly these were people with routine surgeries that just wanted their recovery to be shorter. In your country, your President said he wanted to 'get out of the way of science', or something like that. Was it a good decision? <pause> I don't think that's a question you can easily answer with confidence, but it made the decisions ones of individual doctors and patients, and I think that makes them more responsible decisions, because they're more personal, yes?
Q. IS THERE ANYTHING THIS NEW TREATMENT ISN'T GOOD FOR?
A. We've made great strides - we have protocols now for pretty much any physical trauma you can encounter. But time is still a critical factor. Depending on the injury it varies, but there is always a period beyond which the body's own machinery - and that is still what we are really making use of here, merely enhanced - by which the body's own machinery will not recognize it as something fixable. Sometimes it can be tricked, certain kinds of nerve damage, or below a certain size, scarring can be removed and repaired.
But for things like a missing limb - we can certainly attach a donor limb, but we can't just have the body grow a new one. Yet. <smiles>
Q. WHAT ABOUT NON-TRAUMA?
A. Research is continuous and expanding. Situations where there is widespread damage from, say a toxin, it is possible we can apply this there eventually. Or chronic diseases, where the underlying cause may be intractable, but the symptoms are ultimately simply cellular damage, perhaps there as well - but there you are still talking about very frequent treatments, or an automated wearable device. I think gene therapy is already more promising in the area of chronic disease and will only become moreso as we advance.
Q. WHAT SURPRISED YOU DURING THE RESEARCH?
A. Well, in many ways all good research is full of surprises, because that is the excitement of new discoveries, yes? But practically - one was the infection issue. We expected that this would help reduce post-operative infections, because again, anything which shortens a major surgery is good.
But we found that a completely unexpected side-effect of the process is that it tends to suppress bacterial infection, close to 100%. We are still not entirely sure why - the working theory is that bacteria are simply outclassed, competition-wise, by CRF-enhanced human cells.
But it means that, well, given the relative risks involved, that if you were somewhere remote, could not get to a hospital in a reasonable period, but there was someone there trained in these techniques, you'd be better off having surgery done on the spot, even on a dinner table or the like, than just to try for stabilization and end up missing the window for CRF effectiveness. Can you imagine a physician making a claim like that just a few years ago? It would have made no sense whatsoever.
Q. WAS THIS DISCOVERY INEVITABLE?
A. That's hard to say, you know? Once something is out there, it's easy to think, 'Well, if not us, then someone else'. But you can never know if someone would have had that initial notion, that curiosity, to look at something in a certain way.
Or if they did, if they would have funding for it. It is yet another argument in favor of strong public funding of basic research. To be sure, Orouboros funded the lion's share of human trials and subsequent development, but the initial studies - both mine and in '96 - were funded by NIH grants. If we hadn't had the money, who can say?
Q. WHAT'S NEXT FOR YOU?
A. As I say, there is still much to be done on this, as well as other unrelated avenues of research. But there are dozens of very talented people in my department - once the ideas are out there, the need for that first person isn't necessarily very high. I think we have development projects well in hand now, I might spend more time relaxing - some remote island where S-Net coverage isn't 100% yet. <smiles>